While fall brings many fun back-to-school activities, for financial aid administrators, it also brings the latest round of Cohort Default Rates (CDRs). Notably, fall is also the time when many schools re-examine their default management plans and service providers. With a focus on positive impacts, the common goal is making sure students get the help they need to successfully navigate repayment. For this reason, over the next two months, we'll be sharing jewels of wisdom on the topic of repayment support and default prevention. This post kicks-off our series, sharing insight on how to maximize the impact of skip trace efforts, whether you do this work yourself, hire it out, or contract a default management provider with skip trace capabilities.

Skip tracing is the process of locating accurate, current, contact information for people with invalid phone or address information. It's a common practice that frequently comes into play for those who work with delinquent student loan borrowers. If the borrower can't be found they can't be offered the help they need to remedy their delinquency.
For this post our experts include Cohort Catalyst colleagues Brendan Shaughnessy and Matt Schafer. If you recall from an earlier post on default rehabilitation, Brendan is a delinquency prevention and default collections expert with more than 12 years in the field. Matt, is a skip trace guru, with more than 16 years of expertise. Together they've created a list of 5 helpful tips.
Tip #1: Make skip tracing a vital part of your default management program.

From our experience, approximately 15-20% of recent higher-ed graduates and stop outs change their phone number, email, or physical mailing address in a single month's time. We estimate that 1 in 5 of our student loan borrowers will enter skip tracing during at least one delinquency period over the life of their loan repayment. Since demographic information can change so quickly, skip tracing is a critical tool to stay ahead of the curve and keep the lines of communication open. A lot of important information is shared with student loan borrowers over the life of their loan. If they don't receive it, they're missing a vital component to understanding all the options and requirements to successfully manage their debt.
Tip #2: Use a variety of sources for locating contact information.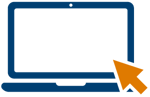 Due to the commonality of people changing their contact info, there are a wide variety of ways to obtain new information for a person. Free resources include doing Google searches, using social media platforms, and delving into online phone location tools like whitepages.com. Also, there are premium services you can purchase for $100 or more to obtain confirmed contact information. Depending on your budget, a varied source of "free" and "fee" services is a good place to start.
Tip #3: Know the rules and risks

Finding information on someone is easy. Finding the right information is more challenging. There's a lot of risk associated with calling incorrect phone numbers. It's not uncommon for a skip tracing vendor to provide lots of possible phone numbers. In some cases it can be more than 10 numbers for one individual, with only 1 number being correct. That means 9 numbers are incorrect and will put you at some degree of risk if you call them. Knowing the Telephone and Consumer Protection Act (TCPA) rules and properly training your staff can help prevent risk and showcase your business operations as credible, legal, and knowledgeable. For example:
Know how to authenticate right party contacts to help avoid possible Fair Credit Reporting Act (FCRA) fines and levies.
Know how to handle third party inquisition to help avoid possible litigation related to predators.
Tip #4: Strategize to lower risk and raise success

There's a thing called the "waterfall" approach. It lets skip tracers utilize several independent sources to narrow down the results to a few, with a high level of expected accuracy. It's a fairly literal term. Similar to a "waterfall", the approach moves information through phases from top to bottom using various sources. As data moves through the process locating student loan borrowers, it ranks and utilizes techniques from most effective to least effective. So you get the best results first with the least amount of risk.
Tip #5: Create and follow best practices for comparing skip trace companies.

You don't have to issue a Request for Proposal (RFP) to fairly assess and find a good fit for your program. But at a minimum you'll want to define how to asses each company to make good comparisons. For example:
Make sure they meet your business need. Meaning, if you use batch processing you'll want them to as well. And, do they provide data updates that mirror your approach (e.g., real-time or on a specific time frame)?
Test the quality of their data. Most credible vendors will offer a product test at no charge. Be on the lookout for an over-saturation of useless data. When you know exactly what your business needs are you'll want the provider to tailor the data being returned to match your specific goals.
Watch for overly complicated pricing models. We've found over time that the simpler the pricing model the vendor offers, the better the overall administrative experience is.
Analyze the data and work it into your process or system. Evaluate and track your success with the data, provide the data back to the vendor with feedback on how they performed. Doing this will help you determine if the vendor is a good fit and whether they can meet your target performance expectations.
Negotiate price but don't start pricing discussion until you've completed testing. Your test results will provide you with price negotiation leverage.
Be confidant in saying "no thanks." The vendor you just vetted may not be a good fit for you. Confidently and professionally decline their offer. But keep in mind, as business needs and vendor offerings change they may someday be a great fit.

Brendan Shaughnessy is a Call Center Operation Manager for Cohort Catalyst and the Higher Education Support Services Team. His outreach specialties include late-stage and high-risk delinquency, and in-house default collections. His finely tuned contact center operations, data reporting, and analysis help to "bring home the success."

Matt Schafer is a skip tracing expert with 16 years of experiencing locating the unlocatable, finding the unfindable, and paving the way for default prevention services to help students succeed. He oversees the manual and batch skip tracing processes for the Cohort Catalyst team.
Reminder
To make sure you're current on all things related to higher education student success, subscribe to our monthly Attigo Connects newsletter delivered right to your inbox.