If the pandemic has proven anything, it's that people and organizations are stepping up in creative ways to make a positive difference. This blog post introduces a great example of student loan stakeholders collaborating to provide much needed support and information in the wake of COVID-19. This type of partnership sets a great model for others to consider. The group recently delivered a timely webinar titled "The COVID-19 Crisis and Student Loans: A Webinar Event for Borrowers and Practitioners," and we're sharing its five jewels of wisdom.

The Wisconsin Coalition on Student Debt is a nonprofit organization representing a range of concerned organizations and stakeholders who seek to increase clarity around the key issues of student debt, college affordability, and loan repayment. As a nonpartisan group, the Wisconsin Coalition on Student Debt is not an advocacy organization. Instead, they raise awareness of policy insights and promote outreach that improves the borrowing and repayment experience for Wisconsin residents with the goal of improved financial outcomes.
In this vein, the Center for Financial Security (CFS) in collaboration with the Wisconsin Coalition on Student Loan Debt and Ascendium Education Solutions (Ascendium), hosted a webinar titled, "The COVID-19 Crisis and Student Loans: A Webinar Event for Borrowers and Practitioners." The webinar's goals were to share:
Real-world stories on how COVID-19 is impacting borrowers and the difficulties they experience in their efforts to understand related relief;
An overview of COVID-19 related relief and information about where borrowers can go to learn more; and,
Information about fraudulent student loan debt relief companies—including how to identify them and where to report suspected fraud.
With various experts on hand, there was important information shared for student loan borrowers and practitioners in the industry.
#1: Students are Thirsty for Insight
All facts that help students better understand the complications of student loans are important. Toss in the confusion of a pandemic and borrowers are even more thirsty for credible information. In response, Ascendium's Repayment Support Team set out to help their clients' students understand the benefits of the CARES Act. In the process of reaching out, it alleviated mountains of stress that had arisen due to:
Increased unemployment/underemployment
Inaccessibility to student loan servicers due to their organizational responses to the pandemic taking added time (e.g., pivoting employees to work from home)
Confusion over what delinquent or defaulted borrowers were to do

#2: Current Student Loan Relief Options
At a high level, the federally passed CARES Act covers:
Suspension of payments and 0% interest accrual on federally-held student loans from March 13 to September 30, 2020.
Temporarily halted collections on defaulted loans.
An automatic opt-in for eligible borrowers so there's nothing they need to do to get the benefit.
The biggest determining factor as to whether the benefits apply to a specific student loan is that it must be held/owned by the federal government.
Other commercial or privately-held loan servicers may follow the April 3 guidance from the Department of Education. Guidance suggests, but does not require, lenders to provide borrowers with similar benefits to the CARES Act. Borrowers are advised to reach out to their loan servicers to seek any benefits being offered.
#3: Scammer Tricks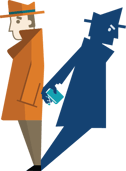 It's no surprise scammers are still scamming. Here are some tips on what students should watch out for, and back away from, if they're uncertain of an organization's credibility to help students.
If they charge a fee for services that are free on the studentaid.gov website (e.g., applying for IDR or consolidation, seeking public service or teacher loan forgiveness, etc.)
Promises to reduce your monthly payment
If they ask for log in information for NSLDS, studentaid.gov, or student's loan servicer account
If student's receive a phishing call or email seeking a response
Note there are credible services out there, but they will typically be introduced to students through their school or loan servicer.

#4: Wisconsin Hotline Introduced

Ascendium created the ​Wisconsin Student Loan Help Hotline ​to help answer student loan borrower questions during the pandemic. Ascendium's Repayment Support Team will be providing guidance based on student questions. (This does not include collecting students' personal information nor accessing any of their accounts.)
Wisconsin Student Loan Help Hotline
Monday-Friday 8am-4:30pm (CT)
Toll-free: (833) 589-0750

#5: Credible Student Loan Resources
For federal student loans:
Federal Student Aid Information
studentaid.gov
(800) 433-3243
Default Resolutions Group/DCMS
(locating collection agency information for defaulted Direct loans)
myeddebt.ed.gov
(800) 621-3115
For commercial or privately-held student loans:
Contact the loan servicer directly.