Have you ever tried to navigate through a maze without a map? I think being a first generation student on a college campus can feel just like that. As a first-gen student myself, I recall walking onto campus and feeling overwhelmed at the sheer magnitude of the number of students, trying to figure out where my classes were located, and how I would get across campus in the ten minute window between classes (because I was unaware of where each building was located, I had scheduled two classes back-to-back that were nearly a mile apart).

First generation students face different obstacles than those whose family have a college-going tradition. My parents, while supportive, were unable to provide much-needed guidance on scheduling, the financial aid and admissions processes, and even where to seek answers on those topics. My fear of failure drove me to get advice but I would seek it from my friends, who weren't the best resource.
Not Knowing What You Don't Know
Students who are the first in their family to attend college need to develop skills that will help them find their way. After floundering for two years I was fortunate enough to have a friend introduce me to someone who worked in the financial aid office. That person walked me through the application and when I was notified I was eligible for a full Pell Grant, I was thrilled…and surprised. I had no idea I would qualify for such assistance. I also started as a work-study student in the financial aid office which opened up a whole new world of resources for me. I finally had someone I could turn to who could answer my questions. But here's the thing—help was there all along—I just didn't know what I didn't know.


I didn't know I should check out where classes were being held when building my schedule. I didn't think about taking some classes in a certain order. I didn't understand the financial aid process and my parents didn't feel comfortable with the forms and couldn't help me financially. I had new-found freedoms to explore and my own decisions to make. And I was only looking at my college tenure one year at a time. Oh, I knew I would need several years to graduate (changing majors three times didn't help) but I viewed it on a short-term scale, one quarter at a time. I never looked at the long-term commitment of obtaining that degree. I thought if I took it one step at a time I would be less likely to fail and less overwhelmed. If I hadn't had that mentor in the financial aid office, I would never have received my bachelor's (and thanks to her I went on for my master's, too).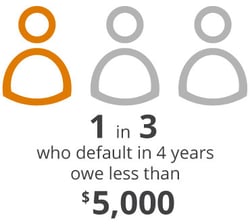 Keep in mind many first-gen students are under-prepared for college which can lead to making poor choices. Some may find the college environment intimidating. Parents don't have the experience to provide direction. Guidance counselors are over-burdened and students can fall through the cracks. All of these can lead to a less-than-positive experience which can lead to a student giving up and dropping out-and that can sometimes lead to default because one in three people who default in four years owe less than $5,000 (source: the Urban Institute).
Ways to Help Students
Here's the thing—I bet you know students just like me. They're in plain sight. And all they need is a bit of guidance. Having methodologies in place to first identify those students is critical. The Free Application for Federal Student Aid (FAFSA) could be one resource but not all students even know help is available—and the neediest students tend to be the ones who struggle with the aid process than most. So having a secondary way (such as the admissions application) is important.
Ways to help:
Using financial wellness resources or a tool that offers students classes or resources on life skills classes, budgeting, credit basics, and loan management
Reaching out frequently to share available campus resources
Encouraging the development of relationships with various individuals and departments on campus, including their academic advisor, and financial aid, bursar, and student life offices
Inspire them to become involved in campus activities to increase the bond between students and the institution
Promoting study strategies and time-management skills
Sharing tips on stress management and coping skills
Creating a peer-to-peer mentorship program matching students to other first generation students
Providing career assessment opportunities to help them determine a major that will be in alignment with their interests and strengths
Having safety nets to ensure students don't fall through the cracks
Reassuring them it's okay to ask questions

Using metrics identifying what does and doesn't work and making adjustments accordingly
Helpful Resources!
Being a student advocate and focusing on the holistic well-being of all students is paramount to retaining them—especially those without a college-bound tradition in the family.

Ongoing Free Resources
Find additional resources at our Persistence and Completion Strategies page.
Or subscribe to the Attigo Connects newsletter to ensure you have access to the latest resources and training sessions available.
Questions?
Don't hesitate to reach out!