Legal problems can keep people from graduating and pursuing certain high-paying careers. What if there was a free legal clinic available to help your students overcome their legal problems? Would you support it? We think so. That's why we're sharing information on establishing a free legal clinic. This blog spotlights one incubator program that is serving students and seeking additional college partners to expand this important service in their state.

Legal problems can keep people from graduating and pursuing certain high-paying careers. For example:
Domestic violence, evictions, and child-support issues create significant stressors that make it difficult or impossible for people to attend school.
Misleading or outdated records and driver's license suspensions resulting from unpaid fines and fees keep people from being able to pursue certain high-paying, in-demand professions like health care.

Recognizing this, a group of legal-aid providers opened free legal clinics at technical colleges in Madison and Milwaukee, Wisconsin. Over 280 people have reached out to the Madison College clinic since September 2019. In addition to helping people solve legal problems, the clinics provide a valuable training opportunity for paralegal students.
Based on this success, they're expanding to technical colleges throughout Wisconsin—using a virtual platform to connect people throughout the state with volunteer attorneys in other locations. In fact, they are seeking Wisconsin technical college partners that want to bring the legal clinic to their communities. The desire is for technical college partners to publicize the clinic, educate staff and students about the legal-aid services available to them, and provide some limited on-premise support for the clinic.
Ultimately, the legal clinic is not "just" about access to justice, but about:
Removing barriers that can force people to drop out of school and default on their student loans.
Paving the way so people can pursue an education and good career path.
Enabling people to pursue and achieve the American Dream and secure safe, stable livelihoods for themselves and their families.
We reached out to Rebecca Rapp, General Counsel and Chief Privacy Officer at Ascendium Education Group, Inc., for some additional information.
How did the clinic get started?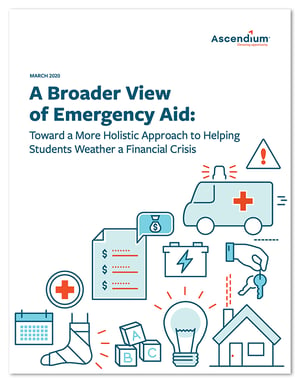 The initial inspiration for the clinic was Ascendium's Emergency DASH grant program. Helping students with unexpected financial emergencies significantly increases people's ability to stay in school. We thought that helping students with legal problems—which can lead to financial emergencies or other disruption—could have a similar effect.
In addition to the emergency grant model, is the fact that there's a huge justice gap in the United States. Over 85% of people at or below the poverty line have unmet legal needs. The gap is higher in rural communities and for certain populations like veterans, domestic violence survivors, and people with disabilities. Unfortunately, many people don't know they have legal issues or where to go for legal help. There's a strong tradition of legal-aid providers connecting with community partners as a way of connecting with potential clients. Technical colleges are great partners given all the support they already provide students, and their strong connections to and presence in communities, including those in rural areas that may have few, if any, attorneys.
Can you tell us a little about the organizations who make up the clinic?
The clinic is the result of amazing collaboration among the technical colleges in Madison and Milwaukee that launched the clinics, Ascendium, and a variety of legal-aid groups. The legal-aid groups including Legal Action of Wisconsin, Wisconsin Judicare, various University of Wisconsin Law School clinics, private attorneys, and other legal-aid organizations including an immigration program.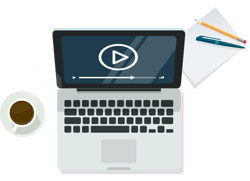 The original plan was to expand to three additional technical colleges over the next 18 months, including at least one in a rural area. But when COVID-19 hit we fast-tracked to an entirely new virtual model just to stay open and keep seeing clients at our established programs. This was particularly important to us because the pandemic has increased people's already-considerable need for legal help. The pivot has enabled us to expand more quickly throughout the state by causing us to more quickly develop a virtual platform to connect students in remote areas (which have been termed "legal deserts") with pools of volunteer attorneys in Madison, Milwaukee, and beyond.
If a school is interested in initiating a program like this in their community what steps should they take to get things going?
We are actively looking for schools to partner with in Wisconsin. Just reach out to us or register for our virtual open house being held on September 15th from 12:00- 1:00 p.m. (CDT). We'll discuss the Madison and Milwaukee clinics and provide information on our expansion and how Wisconsin technical colleges can bring the virtual legal clinic to their communities.
Open House
Sept.15th from 12:00- 1:00 p.m. (CDT)
I'm happy to talk with schools in other states too. Another option would be reaching out to a local legal-aid provider. A good place to start in looking for a local legal-aid provider is: https://www.lsc.gov/grants-grantee-resources/our-grantees.
Can you share examples of how the legal clinic has helped individual students?
Though we knew there's a huge justice gap and that technical colleges could make tremendous partners, we have been amazed by the interest. The Madison College Clinic opened last September in a soft launch, and the Milwaukee Clinic opened later in the fall. And we were forced to go remote in March and people have sought help for a range of issues. But the main ones are child support and family law, help with misleading criminal records issues, driver's license restoration, being a crime victim, and immigration.
As of the end of June, the Legal Assistance Clinic has fielded requests for people in the following areas of legal need:

Legal Assistance Requested
Number of Requests
Child Support, Family Law
75
Immigration
18
Expungement
16
Bankruptcy
10
Driver's License Restoration
10
Victim of Crime
10
Consumer Protection
7
Criminal Records
4
Foreclosures
2
Rental Housing
2
Unemployment Compensation
1