On a good day student loans can be a complicated topic. Toss in a pandemic, stay-at-home orders, furloughs and unemployment, and you're bound to see some stress and confusion. So what's the current general pulse among student loan borrowers related to their education debt, payment suspension, and plans for when the forbearance ends? Keep reading as we share what we've learned.

CARES Act
On March 27, 2020, the President signed into law the Coronavirus Aid, Relief, and Economic Security (CARES) Act. This emergency legislation* included student debt relief provisions that apply mainly to Federal Direct and Federal Family Education Loans (FFEL) owned by the U.S. Department of Education, including:
An automatic suspension of payments and interest accrual from March 13 through September 30, 2020. Students can continue to make payments if they like, to more quickly pay down on their principal.
A suspension of collection activities on federal defaulted loans, including garnishment of wages, tax refunds, Social Security benefits, among other actions.
---
U.S. Department of Education FAQs for Students are located here.
---
As we look ahead, there is concern that a number of borrowers who move out of the suspension will become delinquent and move in a wave toward default. At Ascendium®, we're doing our best to leverage this time to educate students about the situation to better prepare them for when the forbearance is over, thus helping limit delinquency and default.
* Congress is currently determining if another stimulus package is needed with additional student loan provisions. This blog information is current as of the date of its posting.
Turning Confusion into Confidence
Our Repayment Support Team (tied to Cohort Catalyst®) has continued to reach out and counsel student loan borrowers even though no payments are due and no loans are delinquent. We reached out to Brendan Shaughnessy, Manager of Call Center Operations, to learn what the common themes are in talking to student loan borrowers.
"There are so many borrowers who are unaware of the provisions of the CARES act," said Brendan. His team shared the following trends in regard to the thousands of borrower conversations they've recently held.
Not knowing about the CARES Act or its benefits. Once we share the facts, students are grateful and relieved to understand how the interest and payment suspension works.
Confusion over their next steps once the suspension ends. After understanding their options and steps to proceed, students become more confident and less stressed.
Appreciation for our Repayment Support Team and the opportunity to re-engage with us and revisit their options later this year.
Most Surprising Discovery
Brendan also shared, "Our contact rates have doubled during this time. People are at home, they are concerned, they're picking up the phone, and they want to talk about their situation. These conversations not only help alleviate stress for borrowers in the short-term, but they are a solid foundation for building out knowledge and skills that can last throughout the life of their loan. They also know they can reach out later and we'll listen and help them find the best solution for their situation."
Student Sentiments
Below are a couple examples of call outcomes from our Repayment Support Counselors. To read more, please visit the Attigo Student Impacts page.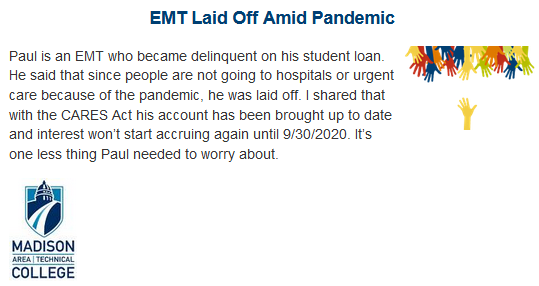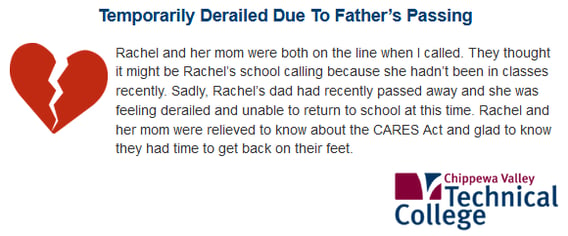 For an

analysis of online conversations about the corona virus and higher education

, be sure to check out Campus Sonar's COVID-19 Briefings.