Identify Student Loan Scams, Fraudsters, and Fake Help!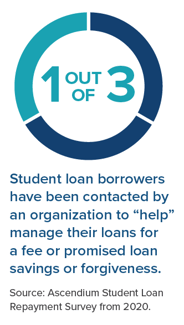 Borrowers have likely seen ads or received calls or texts from companies promising to help with student loan debt. No matter what pitch these companies make, know this: there is nothing these companies can do for student loan borrowers they can't do for free for themselves.
Learn how to help student loan borrowers identify scams, fraudsters, and fake help.
Find additional case studies on our Resources page.