Over the past 25 years, Wallin Education Partners® (Wallin EP) has worked hard to make college graduation possible for high-potential students with financial need. More than a scholarship provider, Wallin EP introduces a support system that produces an incredible 91% graduation rate among its scholars. This blog explores what they're doing and shares insight on how, you too, can maximize persistence and completion for high-potential students with financial need.

Wallin EP enables Minnesota students with financial need to achieve college and career success though:
Financial assistance

Comprehensive advising support

Collaboration with education, business, and philanthropic partners
Scholars receive financial aid to offset the cost of college and Wallin EP leverages donor funding to help ensure it's not displaced by other aid, reducing the cost of attendance. This means that scholars begin and end their college journey with less debt.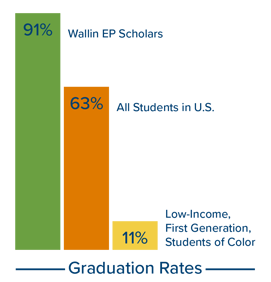 Through an individualized advising and support system, each student works closely with a professional advisor who ensures the scholar receives focused and comprehensive support.
Wallin EP partners include —high schools, colleges, businesses, donors, and community groups. Each organization provides a piece of the solution to help give scholars the best opportunity to succeed. In fact, that's how Ascendium® became part of the Wallin EP support system. They use GradyReady®, our online student success curriculum to present the topics students need in order to improve persistence and completion.
We reached out to Wallin EP to see how they're using GradReady as a component of their highly successful system.
How is GradReady being utilized within your broader program?
GradReady was a key component during our most recent onboarding cycle for incoming 4-year and 2-year students. We incorporated specific GradReady modules into our orientation process, asking students to interact with the content before their first advising meeting in the summer.
We focused on the modules that outlined the basics of financial aid and the transition from high school to college. Our orientation process for incoming students typically centers around in-person events. GradReady allowed us to keep our programming dynamic while being entirely online.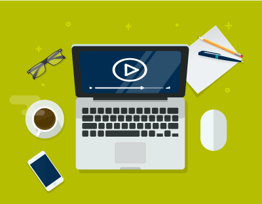 For our returning 4-year students, our Scholar Programs team is using targeted module suggestions based on individual student needs, along with content that reinforces learning outcomes in our established curriculum.
We recently offered a list of module suggestions to our broad scholar audience in our program newsletter. Our 2-year program is exploring ways to implement GradReady modules into the curriculum for their monthly cohort meetings.
Earlier this year we added academic and life skill lessons to GradReady. Why is this new content important to you and your scholars?
Navigating expectations, self -care, and shifts in time management and communication strategies have been especially prevalent challenges for our students as they've adjusted to the world of online learning in 2020. It has been helpful to have an additional pool of resources, many of which speak to big-picture challenges of adjusting to life as a college student and all the skill development necessary to successfully make that transition.
Administrators can pre-enroll student cohorts into the GradReady curriculum. How is this feature helpful to your counselors?
We used the pre-enrollment feature for our first-year scholars who entered the program in summer 2020. On a macro level it is helpful to get a sense of the engagement of the entire class as we move through the year. On a micro level, Advisors can see what their students have completed and follow up with them based on their level of engagement with suggested modules.

GradReady provides a 24/7 accessible Admin Dashboard with real-time data that shows the progress of students through the curriculum. How are you using this feature for your program?
At this point in the year, we are mainly using the Admin Dashboard as a tool to verify student engagement so advisors can follow-up with individual students on skills and strategies based on their needs. As we get further into the year, we hope to use the dashboard data to further measure student learning outcomes and streamline delivery of in current and future academic years.
What advice do you have for other scholarship providers or organizations wanting to improve their college completion rate for high-potential students with financial need?
At Wallin EP, we believe that individualized support for students truly means that we need to continually work to improve depth of resources in academic, financial, and career readiness spaces. Providing support to each student on multiple levels helps students to engage at the right time, invest in their own growth, and ultimately make the most of their college experience.
---
---

Liz Karlen is the Associate Director of Scholar Programs at Wallin Education Partners. She has been with the organization for 8 years as a Scholar Advisor and Program Manager and has worked with hundreds of scholars over the course of her tenure, offering consistent support and coaching as they work to identify and achieve their short and long-term goals.

As the Scholar Programs Manager, Caitlin Cardinal supports the operational and administrative projects for the Scholar Programs team. She oversees scholar data management, logistical management of the scholar onboarding process and manages scholar communications.