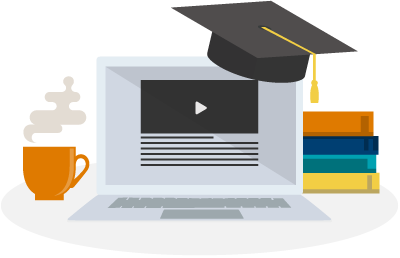 SmartSessions® provides free, online training on important default management, professional development, student success, and business solutions topics. Presented by certified trainers with decades of experience, our training sessions keep you a step ahead in an ever-changing world.
An Extensive Array of Topics

Student Success
Provides insight, programs, engaging tools, and best practices to increase students' literacy, persistence, and graduation rates.

Default Management
Helps you prevent loan delinquency and default and manage your cohort default rate.

Professional and Personal Development
Increases overall learning and growth, strengthens skills, and supports your well-being.

Business Solutions
Supports our innovative Attigo suite—making it easier for you to better serve your students.
SmartSessions Benefits
60 minutes
Engaging and educational
Variety of topics to meet everyone's training needs
Receive certificate of completion to satisfy professional development or performance review requirements
Who We Help
SmartSessions have shaped higher-ed leaders, strengthened teams, and advanced student success on a variety of fronts.
The SmartSessions Difference
Our trainers bring a unique perspective with their sessions to challenge participants to think creatively, share ideas, ask questions, and solve problems.
Certified in facilitation and presentation
Accredited Financial Counselors (AFC®)
20+ years delivering training to the higher education community
50+ years of combined experience in financial aid, admissions, student lending, and training
Tasha McDaniel
Senior Trainer
Michiale Schneider
Senior Trainer
What Attendees Say
"Tasha & Michelle presented the info brilliantly. Not only giving the info but examples as well. It was kept lively and interactive but not overwhelmingly so. Just brilliant."
Margo Jacobs, TCS Education Systems
"The examples were great! It was informative and I will use the tips and techniques shared as a part of my everyday communications to improve my skill set. I especially enjoyed the part that said: Disagreements are not conflicts! I will remember that. Thank you!!"
Jennifer Hise, Saint Leo University