What is a student debt letter or indebtedness letter?
While they've been given many names—Student Loan Notification Letter, Student Loan Disclosure, Loan Debt Disclosure, Education Loan Disclosure, Loan Summary—the term we've embraced is Student Debt Letter; easy to say and easy to comprehend. Regardless of the name it's an important correspondence containing personalized student loan, financial aid, and college cost information sent by schools to their students. Student debt letter information not only helps schools retain the students they've worked so hard to enroll, it helps empower students to achieve better outcomes including strategic degree choices, maximizing credits, and reducing borrowing. Many states have mandated use of an annual student debt letter.

New to debt letters? Download our Student Debt Letter Best Practices.

Quick links
Am I required to comply with student debt letter legislation?
It depends. Currently there are eleven states with debt letter legislation: California, Florida, Illinois, Indiana Maryland, Nebraska, Oregon, Texas, Virginia, Washington, and Wisconsin. Each state has different parameters as to when they became or will become effective, which schools must comply, and how.

To get up to speed, download Who Must Comply.
Navigating state-Based debt letter legislation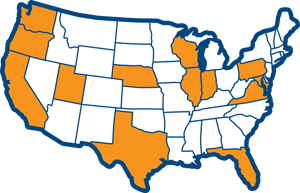 If you're in a state with debt letter legislation, our resources can not only bring you up to speed on your state's legislative requirements but also help you understand how to comply. Our free resources include:
Select your state To get started!
California Florida Illinois Indiana Maryland Nebraska Oregon Pennsylvania Texas Virginia Washington Wisconsin