When a typical student loan borrower comes to mind, we tend to conjure up images of a young graduate or someone in the process of building their career. We don't automatically think about borrowers who are over the age of 50. But this growing group of Americans are burdened by student loan debt for a variety of reasons. And the challenge to repay the debt is chasing them through their golden years.

According to AARP, in 2004 borrowers age 50 and older owed 10% of student loan debt. By 2020, it had more than doubled to 22% totaling 8.4 million borrowers.
---
Average student loan debt for those 50+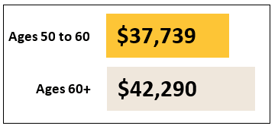 ---
Between 2010 and 2017, total student loan debt rose 161% for people age 60 and older — the biggest increase for any age group.
How did we get here?
There are a variety of reasons why this demographic is feeling the pinch.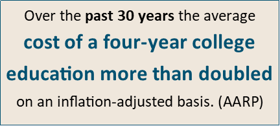 Increasing college costs.
Family incomes that haven't kept pace with inflation.
A desire to pay for children's college dreams, or one's own if they put it off to raise a family.
A need to boost employment prospects through additional postsecondary education in the wake of the 2008-09 recession.
Additionally, although there's a cap on the dollar amount of federal loans available for undergraduates to borrow, there's no cap for the aggregate amount parents can take on. It has contributed to parents' increased borrowing to cover the gap between college costs and whatever aid their children may receive.
Federal student loans account for more than 90% of student loan debt. However, the private loan market continues to grow in response to expanding needs.
In the 2008-09 school year, 74% of all new private student loan dollars extended to undergraduate students included parent or other adults' signatures to secure them.
By 2019 it had grown to 93%.
What happens if you can't pay?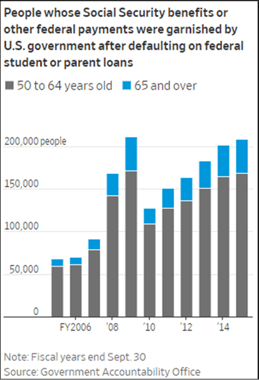 Federal Parent PLUS and private loans don't have the flexible repayment or forgiveness options to help ease monthly payment amounts (e.g., income-driven repayment, Public Service Loan Forgiveness, etc.) that undergraduate federal loans do. Older borrowers may find the need to take on a second job or delay retirement just to continue making their payments.
If default occurs, serious consequences can include the garnishment of wages and Social Security income. CNBC reports that "more than 70% of garnished Social Security benefits were just going toward student loan fees and interest...not principal...leaving many seniors with a reduced standard of living and stuck in a cycle of inescapable debt."
According to AARP, whether someone took on student debt for themselves or a loved one, "37% of Americans over the age of 65 are in default on their student loans."
Who is looking out for these borrowers?
This group of older borrowers generally takes out loans on behalf of others, so they aren't necessarily on the radar of most schools who focus repayment support efforts on student borrowers. So how does this cohort learn about available repayment options and who is responsible to help them?
The reality is that student loans are a highly specialized industry. The complex programs require in-depth knowledge, and a need to stay on top of changing legislation and compliance issues. Having a penchant for helping borrowers find repayment success is also key to providing objective support and not, for example, just recommending refinancing to a lower interest rate. It's more complicated than that. There are pros and cons to be considered. An open market refinance may reduce an interest rate but it will also strip away federal loan benefits that could be needed.
Although the Federal Student Aid website has a lot of valuable information for traditional student borrowers, and federal loan servicers provide support, there's a strong need for one-to-one personalized counseling for older borrowers and parent borrowers.
What are creative solutions to repayment success?
Numerous articles share stories of people hiring lawyers to help limit wage garnishments or to obtain a disability discharge. But hiring an attorney costs money as well. Then there are individuals who dig deep to find solutions but their circumstances may not apply to everyone. For example, an article from Kiplinger Report "How to Pay Off $130,000 in Parent PLUS Loans for Just $33,000" shares an interesting strategy but it warrants caution for those who aren't experienced in student loan management.
Employers, banks, member organizations, and schools are stepping up. They are hiring specialized groups to provide support as a value add benefit to their employees or customers. The best way to determine an individual's options is to talk to a trusted, knowledgeable source.