Default prevention and repayment support activities are an important component of a comprehensive student success program. You and your students benefit from investing in these activities through:
Reduced Cohort Default Rate (CDR)
Increased Repayment Rate
A demonstrated commitment to addressing student loan indebtedness concerns
Supporting students who stop-out by preventing default and giving them a second chance at re-enrollment
Quick links
Look Inside Unique Approaches to Student Success
Cookie-cutter default prevention tactics that treat every school and every student the same don't work. What does work is moving beyond standard outreach plans and engaging student loan borrowers based on their individual situations. Madison College is doing just that; driving positive outcomes using unique approaches to student loan default prevention and repayment support. They're not only helping their greatest assets—students—succeed, they're also giving those who've stopped out a second chance at success.

To read more, download A Look Inside: A Multi-Channel Approach Lowers CDR [A Case Study].

Jump-Start Your Default Prevention Provider Search

If your school has decided to hire a default prevention provider you may be wondering where to start. These six steps can help you jump start your search and find the default prevention company that will meet your needs and provide the results your desire.

Get started and download 6 Steps to Choosing a Default Prevention Provider.


In general, you can use a formal Request for Proposal (RFP) or maybe you'll want to simply pose questions to default prevention companies through phone conversations and jot down information as you go. Either way, having clear goals will help you determine which solution best meets them. Knowing your requirements and identifying "nice-to-haves" are critical in helping to find the best option for you and your students.
Download this handy checklist to help you compare default prevention providers and find the best fit.

Checklist to Compare Default Prevention Providers

Default Prevention Pricing Guide
Just like there are multiple ways to engage and counsel student loan borrowers, there are multiple pricing models for default prevention services.

Download Default Prevention Pricing Guide to compare the top methods and look at their pros and cons.

Insider's Guide to Cohort Default Rates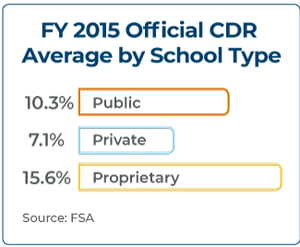 The U.S. government's main metric for school accountability in keeping student loan borrowers out of default is the three-year Cohort Default Rate (CDR). A CDR is the percentage of a school's U.S. Federal Stafford loan borrowers (Direct/Federal Family Education Loan Program) who enter repayment during a federal fiscal year and default within the cohort default period. The monitoring period begins on October 1 of the fiscal year when the borrower enters repayment and ends on September 30 of the following two fiscal years.
If you're new to the financial aid world and want to learn more about CDRs or if you need a solid resource to share with colleagues, download this guide to help you get started.

Insider's Guide to Cohort Default Rate
Repayment Rate: A New Default Metric
Although CDRs are the main metric for school accountability in keeping student loan borrowers out of default, the Repayment Rate is gaining in popularity. Although there's no agreed-upon definition, Repayment Rate generally means the percentage of borrowers within three years of entering repayment who:
Didn't default on their loans; and,
Reduced the amount they owed on those loans by at least $1.
Repayment Rates are thought to be more sensitive than CDRs, because CDRs measure only the worst-case repayment scenario (default) and can be manipulated by allowable deferment and forbearance options.
Whether or not Repayment Rates become a legislated standard, knowing that your students are reducing their principal balances is an important metric in regard to student success. For more information on why Repayment Rates are important, check out Getting Repayment Rates Right.
Cohort Catalyst
Learn how we can help achieve your default prevention and repayment support goals.