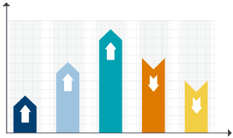 Cohort Analyzer™ is a data analysis tool that quickly and easily identifies cohort discrepancies. When used throughout the year it significantly reduces the time schools spend researching and preparing data challenges. This innovative solution compares data between multiple sources and highlights conflicts you'll want to address.
Free with Cohort Catalyst or Purchase Separately


Cohort Analyzer is a component of Cohort Catalyst.
If you're a customer, simply provide your
NSLDS or PESC Report and we'll do the rest.

There's a nominal fee to purchase
Cohort Analyzer separately, based on
the size of a school's cohort.
As a former financial aid professional, I know the amount of time it takes to
research CDR discrepancies. I built this analyzer to save time!
Kristi Blabaum
System Integration Analyst, Ascendium
Here's How Cohort Analyzer Measures Up
Saves Time
We do all of the analysis to identify conflicts between multiple data sources.
Used throughout the year, you can reduce the number of CDR challenges you have to submit, thus saving you valuable time and resources.
Dynamic Data
Data comparisons highlight inconsistencies between multiple sources like:

NSLDS Portfolio and PESC reports

Servicemembers Civil Relief Act (SCRA) database

Loan Record Detail Report (LRDR)
School enrollment file
Social Security Death Index (SSDI)
Bankruptcy database
Easy To Use
No installation required.
Our high-touch support will quickly provide you with access to the dashboard and available reports so you can work the discrepancies as soon as they're identified.
Compliant
FISMA compliant using NIST protocols.
Student data protected in accordance with FERPA.
Box 5
List Item
List Item
List Item
Box 6
List Item
List Item
List Item
Interested In A Demo? Ready To Get Started?
Contact us and Start Saving Time and Resources Today.
Cohort Analyzer is an Attigo student success solution. It can be used independently or in tandem with other Attigo solutions to further advance your student success goals.
Cohort Catalyst®

is a comprehensive repayment support, default prevention, and loan rehabilitation solution
College Cost Meter® is a customizable debt letter to keep students informed and empowered
GradReady®

is a comprehensive online student success curriculum