The fast and easy way to tackle cohort data challenges
Cohort Analyzer is a data analysis tool that quickly and easily identifies cohort discrepancies. When used throughout the year it significantly reduces the time schools spend researching and preparing data challenges. This innovative solution compares data between multiple sources and highlights conflicts you'll want to address.
---
Here's how Cohort Analyzer measures up


Saves Time
Our analysis identifies conflicts between multiple data sources.

High-touch Support
Quick access to dashboard and reports to work discrepancies as soon as identified.

Dynamic Data
Multiple data sources compared to highlight inconsistencies.

Compliant
FISMA compliant using NIST protocols.
Free with Cohort Catalyst or purchase separately.
If you're a Cohort Catalyst customer, simply provide your NSLDS or PESC Report and we'll do the rest. There's a nominal fee to purchase Cohort Analyzer separately, based on the size of a school's cohort.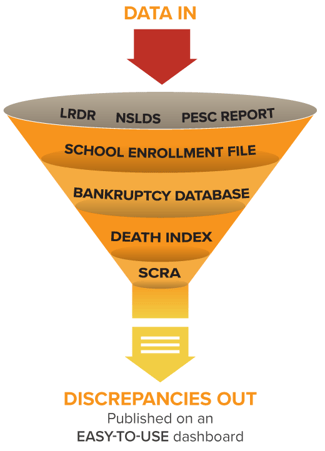 School Impact
Year round use reduces the number of CDR challenges you have to submit
Saves valuable time and resources
Platform Features
No installation required

Student data protected in accordance with FERPA

Data sources include

NSLDS Portfolio and PESC reports,

Servicemembers Civil Relief Act (SCRA) database, s

chool enrollment file and bankruptcy database
Combine with other products to maximize impact
Each Attigo solution brings value to student success programming. But when combined their power to transform lives and achieve goals is exponentially greater.
Default Prevention

Cohort Catalyst®
Personalized repayment support for struggling borrowers.

Student Debt Letter
College Cost Meter®
A student debt letter tool to improve outcomes and comply with state legislation.