Over the past 10 years we've helped
4.8 MILLION BORROWERS

avoid default and its crippling consequences.
Learn how Cohort Catalyst's
for students, amidst COVID-19 confusion.
Student loan defaults are damaging. Not only do they have severe consequences for students, but they can hurt a school's cohort default rate (CDR), reputation, and enrollment goals. That's why we provide a default prevention and rehabilitation solution that drives student success to new heights.
Cohort Catalyst® empowers students through outreach, education, and counseling to help keep them on the road to success. It was built from the lessons we've learned by keeping millions of student loan borrowers out of default and helping those who have defaulted to successfully complete rehabilitation.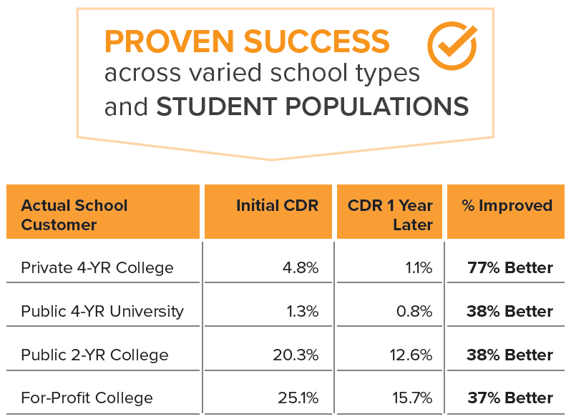 check out how these Attigo power users are helping their students
Moraine Park Technical & Valencia Colleges
Wisconsin Technical College System
In The Last Fiscal Year Alone, We:

Prevented
1.35 MILLION
student loans from defaulting, totaling
$13.3 BILLION

Rehabilitated over
$1.38 BILLION
in student loans
Comprehensive Tool And Service
Data management and targeted outreach for the biggest impact in the shortest time
School-branded communication at grace, forbearance, and deferment-end, throughout delinquency, and default rehabilitation
Inbound/outbound call center with expert counseling
Student-facing repayment support website with chat option
Experienced Team
Elite squad of expert counselors with proven record of success
Treat students with respect, dignity, and take the time needed to explore long term solutions
Act as borrower advocate in calls with servicers and collection agencies
Pricing Approach
Default Prevention: Outcome-based fees tied to meeting your goals
Default Rehabilitation: One-time per borrower fee for monthly outreach and support toward rehabilitation
365-day guarantee on cures, no termination fee
Repayment Support Leadership Team

Hannah Achtor
Manager—Quality Assurance, Compliance, and Training
Hannah has trained more than 500 Loan Counselors with the motto "kill 'em with kindness." She's one of the reasons our customer satisfaction is unparalleled in the industry.
---

Kristi Blabaum
Systems Integration Analyst
Kristi is our go-to person for product development, process improvements, and leadership. She thinks like a school, plans like an Information Systems developer, and always has the student in mind.
---

Keeley Goldthorpe
Manager—Call Center

People are Keeley's passion, and she's hooked on the "feel-good" reward of seeing the direct impact our work has on the lives of student loan borrowers.
---

Brendan Shaughnessy
Manager—Call Center Operation

Brendan's outreach specialties are late-stage and high-risk delinquency, and in-house default collections. His finely tuned contact center operations, data reporting, and analysis help to "bring home the success."