Default prevention support
Cohort Catalyst uses targeted outreach, comprehensive education, and high-touch counseling to help student loan borrowers achieve repayment success. Combine with our inbound hotline to achieve 360° of repayment support.
---

Experienced Team
Inbound/outbound call center with an elite squad of counselors and a proven record of success.

24/7 Administrative Dashboard
Comprehensive metrics and reporting.

Comprehensive Support
We handle everything from data management to online learning.

School-branded Communication
At grace, forbearance and deferment end, throughout delinquency, and default rehabilitation.
360° of Support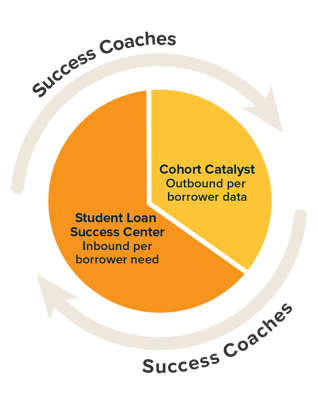 Borrower Impact
Students treated with dignity and respect
No talk-time limits, needed time is taken to explore long term solutions
Act as borrower advocate in calls with servicers and collection agencies
Student-facing repayment support website with chat option for added support
Platform Features
Quick & easy implementation
Skip trace research
Federal Student Aid loan data integration
Supports various school types and their diverse student populations
"Our low cohort default rate is a point of pride... it wasn't a problem when we began working with Cohort Catalyst, but we still had students who were struggling with repayment, delinquency, and default. We believe we have the responsibility to reach out to borrowers to offer any assistance we can."
- Shane Maloney
Associate Director for Federal Awards, University of Wisconsin—Madison
Combine with other products to maximize impact
Each Attigo solution brings value to student success programming. But when combined their power to transform lives and achieve goals is exponentially greater.
Student Success Curriculum

GradReady®
Financial education and more, delivered online to support persistence and completion.
Student Debt Letter
College Cost Meter®
A student debt letter tool to improve outcomes and comply with state legislation.