When scrolling through news stories online, you're likely to stumble across two trending issues: the burden of student loan debt and the competitive job market that's wreaking havoc on many employers. While these topics may appear unrelated, they actually intersect and in line with the ancient Chinese philosophy of Yin and Yang, are complimentary and interdependent.

Issue: Student Loan Repayment Resumption
Late last year we published a whitepaper on student loan repayment that included survey results from nearly 10,000 student loan borrowers. At the time, 79% of respondents indicated they were not prepared to reenter repayment on their federal student loans that were in forbearance due to the CARES Act. We continue to read that student loan borrowers are overwhelmed and stressed about the onset of repayment, now set to resume on May 2, 2022.
While student loan forgiveness has been a focus for some time, there is no promise that it will happen. One thing is certain: many of America's student loan borrowers need help.
Issue: A Competitive Job Market in a Post-Pandemic World
Another more recent issue, dubbed the "Turnover Tsunami" and "The Great Resignation," speaks to the challenges employers are facing when trying to attract and retain employees. There's more than one reason why this is happening.
Baby Boomers are retiring in record numbers. The quit rate in the U.S. is the highest it's been in decades, and Baby Boomers are taking up a fair share of that population. While we knew this was coming, it certainly seems like the COVID-19 health crisis has hastened its occurrence. With millions out the door and many millions planning to leave, only a portion of those vacancies will be (can be) filled by our younger generations.
Employees are simply playing catch-up as the labor market corrects itself. When the COVID-19 health crisis hit,

more and more people stayed put in a job they would have otherwise lef

t

for different opportunities. Factoring in employee burnout — which increased throughout the health crisis — it comes as no surprise that employees are looking for a change. Fast forward to April 2021 when around 4 million people quit their jobs

.

With 9.3 million available positions during that same month, employees recognized they had the upper hand.
These changes in the labor market resulted in severe talent shortages. It's not easy to fill open positions, and that was true even before the health crisis. While data shows that U.S. employers have struggled to fill positions in the past, the Turnover Tsunami is making it challenging to find and keep top talent.
If you're in Human Resources, you know just how costly high turnover is. Losing an employee is estimated at 1.5-2 times their salary. This includes recruitment costs as well as expenses tied to decreased team productivity, employee training and opportunity costs (i.e., the things you can't take advantage of because you're down a person). Steep costs resulting from a Turnover Tsunami can severely impact business' bottom line.
The Intersection that Addresses Both Concerns
Offering Student Loan Repayment Assistance (SLRA) as an employee benefit is at the intersection between these two issues.
When employers make payments on employees' student loans, they directly impact their workforce's well-being.
Reduce stress. Employees can see the light at the end of their student debt tunnel.
Achieve goals. Employees can more easily reach financial goals as their student loan debt is paid off faster and interest expense is reduced.
Save for the future. Saving for retirement, a home or other major purchases becomes a reality.
Employer contributions can bring considerable savings for employees. Here's an example.
AVERAGE BORROWER
$30,000 student loan debt
6% interest rate
$325 10-year term monthly payment amount
$100 employer monthly contribution
IMPACT ON EMPLOYEE'S STUDENT LOAN (while fully employed)
Total employer contribution: $8,800
Interest savings: $3,205

Lifetime savings: $12,005

Repayment time reduced: 3 years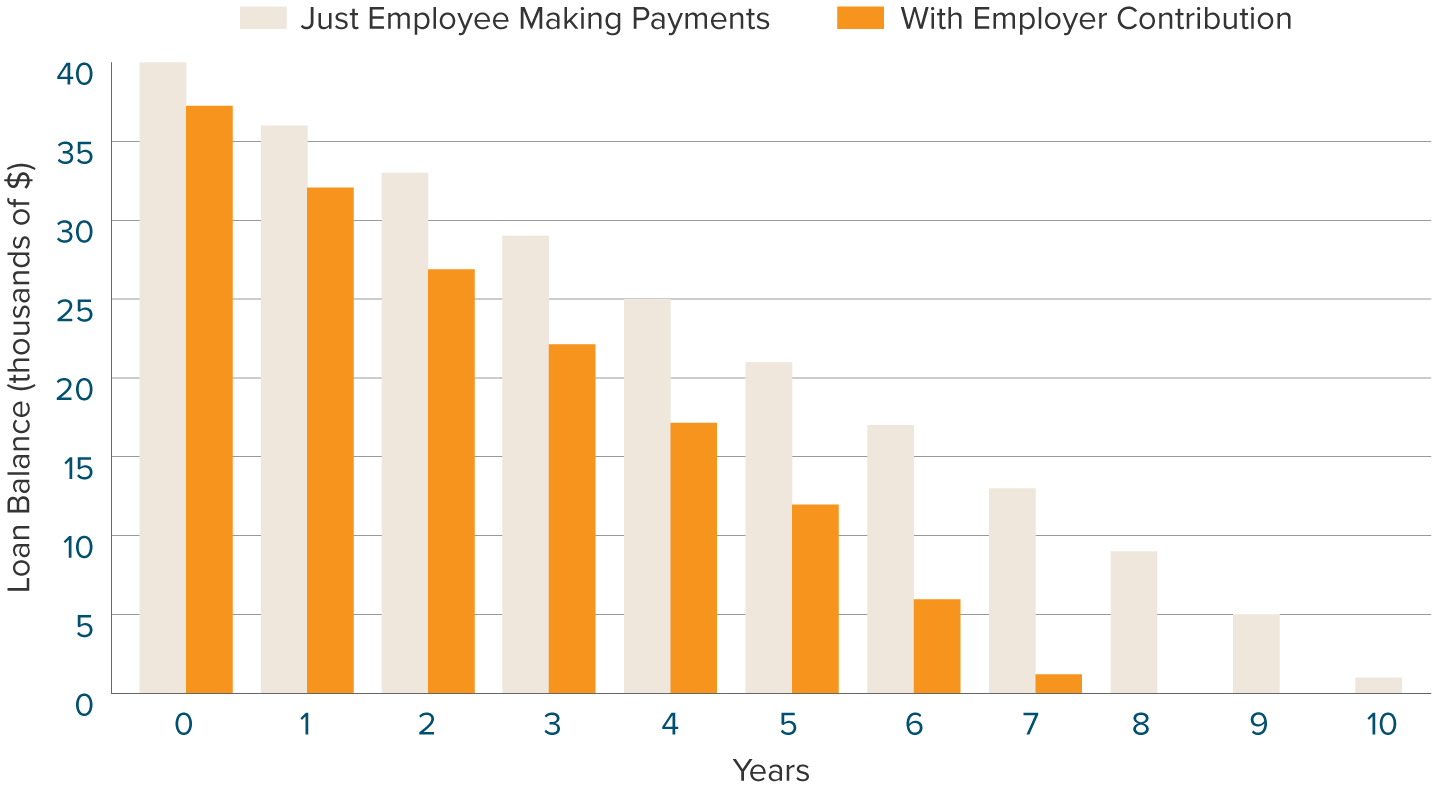 SLRA helps employers:
Attract talent. People with student loan debt are more likely to consider a job with a student loan repayment benefit over one without it.
Retain employees. Employees with student loans are more likely to stay at a company if the employer helps to pay back their student loans.
Improve productivity. In reducing student loan stress, employee work performance is likely to improve.
When organizations address the challenges of student loan debt, they gain a competitive advantage and put up a fighting chance against a Turnover Tsunami.