What is Student Loan Repayment Assistance?
Student Loan Repayment Assistance (SLRA) is one of the fastest growing employee benefits. It directly addresses the burden that student loan debt places on today's workforce. Employers provide student loan debt help by making payments toward an employee's student loans. This contribution reduces the employee's total loan amount paid, interest expense, and the time it takes to pay off the debt. When included in a benefit package it can make recruitment and retention easier, engagement and productivity better.
Employer contributions up to $5,250 annually are tax-free through 2025 when provided as part of an Education Assistance Program (EAP). Looking for more details? We've compiled key facts and background information to make it easy with our Deep Dive Into Student Loan Repayment Assistance blog post.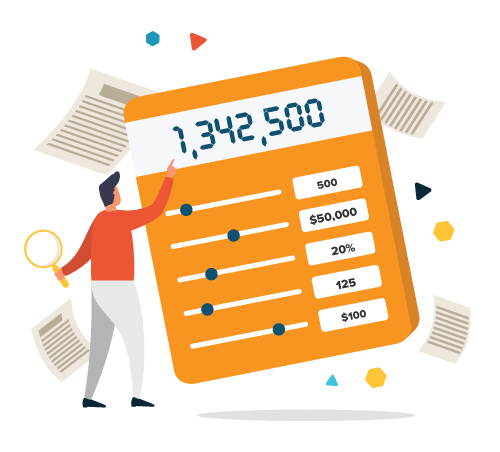 Calculate the impact of SLRA on your company.
Provide a few data points to estimate the ROI of adding SLRA to your company's benefits package. SLRA can help reduce turnover, saving your organization money!
Show Me How
Other ways to offer student loan repayment help and support

Not all organizations can afford a SLRA program. So what are other, more cost-effective ways to support student loan borrowers? One-to-one counseling and online education from a trustworthy, knowledgeable, and impartial source are great ways to help:
---
Student loan debt is a burden to many Americans
Student loans are stressful regardless of age or income level. Balancing payments with other bills and financial commitments can delay key life achievements for many. Student loan repayment support programs allow employers to differentiate themselves and show they understand a major pain point in their employees' lives.
Employers are not the only ones affected. Student loan debt impacts customers too, and may be limiting their ability to use services.
Student loan debt may cause mild anxiety for some or be a huge stressor for others. Student loans are the second-highest consumer debt category in the US, so the impacts on individuals and the economy are huge. Employers have reported that workers with financial stress have reduced workplace productivity and engagement. A significant percent of adults say student loan debt is a key contributor to their financial stress.

The default rate among Black graduates is more than 5X the rate of white counterparts.
As employers create and improve practices to support Diversity, Equity and Inclusion (DEI) they should consider the disproportionate impact of student loan debt on some demographics. With this knowledge comes the opportunity to introduce programs, like 1:1 student loan counseling to help people thrive, both personally and professionally.


1 out of 5 experience student loan default and its lifelong consequences
High collection fees | Wage garnishment | Credit score damage | Withholdings from income tax refunds and Social Security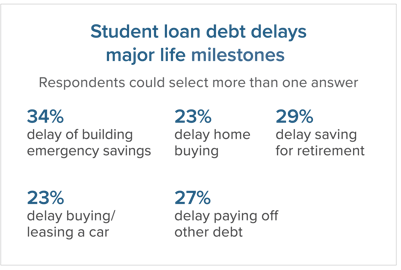 Past due student loan payments lower credit scores and place people in high risk categories where they are:
Charged higher interest rates

Less likely to obtain financing for purchases

Challenged to secure an apartment, utilities, and phone services

Unable to obtain reasonable insurance rates
Student loan debt delays source:
Bankrate
---
The benefits of addressing student loan debt
When organizations address the challenges of student loan debt they gain a competitive advantage. By helping people manage their loans and reduce financial stress, organizations can achieve important goals.
For employers
| | | | |
| --- | --- | --- | --- |
| Attract | Retain | Boost Engagement | Improve Productivity |
| 80% of Millennials would strongly consider a job with a with a student loan repayment benefit over one without it | 86% of employees with student loans would commit to a company for five years if the employer helped pay back their student loans | Financially stressed employees are 3x more likely to be disengaged than their counterparts | 70% of employees with debt said that student loan benefits would improve their work performance |
For service providers
(banks, credit unions, member organizations, etc.)
| | | |
| --- | --- | --- |
| Expand your expertise and grow sales | Attract new customers and build affinity | Increase customer purchase power |
---
Obtaining student loan counseling and support
Due to an increasing number of borrowers speaking up about their plight, many companies are offering student loan repayment assistance and counseling help. Combating student loan angst is the fuel for new solutions and legislation that are available for a broad group of organizations—including employers, financial institutions, government agencies, and professional associations.
Support includes solutions that help borrowers ease their financial burden, reduce stress, improve financial wellness, and achieve important goals.
Student loan repayment assistance
Student loan counseling
Financial wellness education
---